Rowing Machines are commonly used for multiple exercises while staying in the same place. Here are 5 Rowing Machines reviews for for 5 best Rowing machines.
Rowing Machines Reviews
Rowing Machines Comparison

RATED
Best
Cheap Rowing Machine
Best
Rowing Machine under 500
Best
Affordable Rowing Machine
Best
Rated Rowing Machine
Best
Home Rowing Machine
NAME
Stamina Body Trac Glider 1050
Stamina Air Rower 35-1399
Velocity Exercise Magnetic CHR-2001
Concept2 Model D Indoor Rowing Machine with PM5
WaterRower Natural Rowing Ash Wood S4
Photo
Estimated Price
$
$$
$$$
$$$$
$$$$$
Heart Rate Monitor
No
No
Yes, chest strap included
No but compatible with a heart rate chest strap
No but compatible with a heart rate chest strap
Resistance Technology
Gas shock Resistance
Wind resistance
Magnetic Drum
Flywheel
Flywheel in water tank
Programs
No
No
12
No preset
no preset
Monitor shows
time, Stroke count, calories burnt
Speed, distance, time, calories burnt
Rep count, calories burnt, time, stroke/minutes, distance, watt & pulse
distance, speed, pace, calories burned, watts
workout intensity, stroke rate, heart rate, zone bar, duration, distance
Foldable
Yes
Yes
Yes
Yes
No
Max User Weight
250 Lbs
250 Lbs
275 Lbs
500 Lbs
1000 Lbs
Warranty
1-year frame warranty and 90-day parts warranty
3 year frame warranty; 90-day parts warranty
5 year warranty on frame
90-day monitor
30-day on all other parts
5-year frame warranty, 2-year warranty on PM5 and moving parts
5-year frame; 3-years parts with completion of warranty form
User Rating
3.8/5
4.1/5
4.3/5
4.9/5
4.6/5
What is the best Rowing Machine?
After 15 hours of research, reading rowing machines reviews, rowing machines users and bloggers to help us find the best rowers, we were able to make a list of the top 5 rated rowing machines.

Top 5 Best Rowing Machines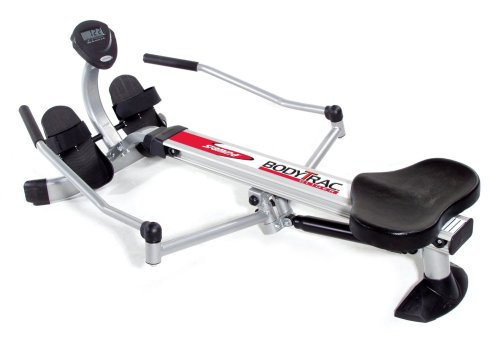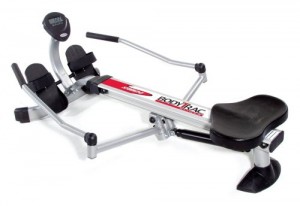 The best Cheap Rowing Machine for beginners with low budget. The Stamina Body Trac Glider
1050 Rowing Machine is rated number one cheap exercise equipment for home. Thousands
of people use it regurlarly accross the United States.

---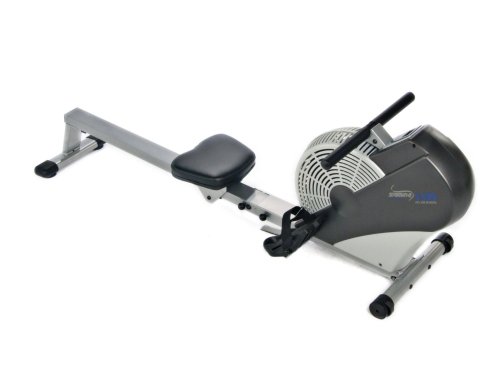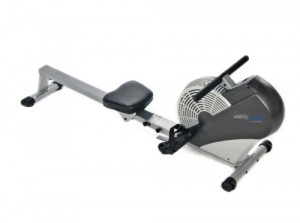 The Stamina Air Rower 35-1399 is the best Rowing Machine under $500 you can find.
It is a lot cheaper than many other row machines and with poorer features. Unlike
the Body Trac Glider 1050, many users consider this model as a "real" rower. It is easy to use
for a beginner and can be folded to save space.

---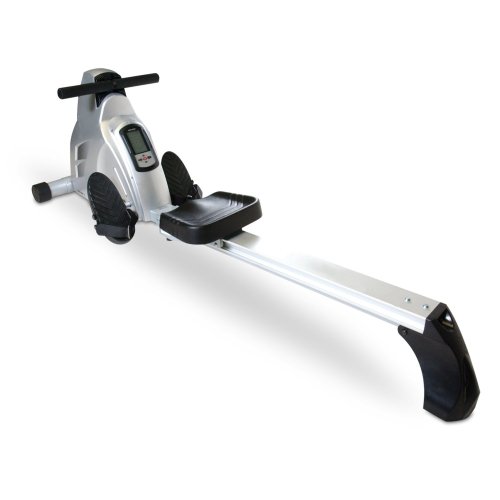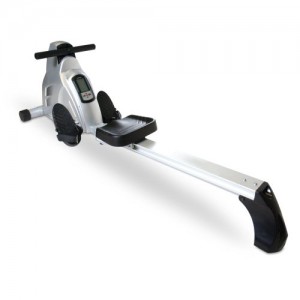 The Velocity Exercise magnetic rower CHR-2001 comes with 12 preset programs which is quite rare for a rower.
Though you could spend a lot more on a rowing machine with more luxurious features, we think this row machine meets all the features a beginner and intermediate need.
This is a good rowing machine for the price.
---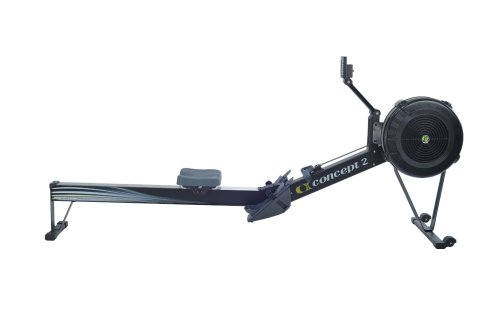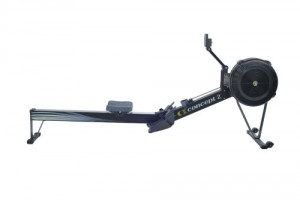 The Concept2 Model D Indoor Rowing Machine with PM5 is definitely a top rated rowing
machine. It is rated with an incredible 4,9/5 stars by its users. The PM5 monitor is
wireless and can send the workout datas to a smartphone. This is a very high quality
product.

---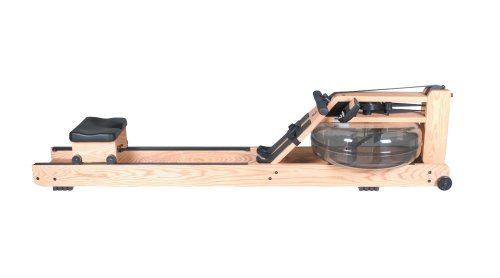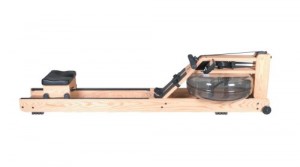 The Best Home Rowing machine of the year is The WaterRower Natural Rowing Machine Ash
Wood S4 with Monitor. This water rower is very resistant and can support anyone. Exercising
with this model gives an outdoor sensation.
Buy The Ash Wood S4 and you won't be disappointed.

How to Choose a Rowing Machine
Choosing a rowing machine is not easy, because they all claim to do the exact same thing, row. However, a rowing machine provides the best full body workout experience. Rowing actually tones, your upper and lower body, including your abdominal muscles. Therefore, you want a machine that can deliver upper and lower body workouts, in a powerful and safe manner.
In fact, a rowing machine is one of the best home gym tools on the market if not the best exercise equipment for home. There are numerous health benefits available for you, at different levels, and you will want to experience all of them. You can tone your muscles, lose weight, and workout at one sitting. So, before you decide to choose a rowing machine, consider these options and models:
Choose a Technology:


Hydraulic Rowing Machines- Excellent Choice for Beginners
Hydraulic rowing piston machines are the cheapest machines on the market, and perhaps one of the quietest. They tend to be less durable than other types of resistant rowing machines. They are easily adjustable, and simple to pack and store. Hydraulic rowers boast of having two rowing oars on either side, to even workout, instead of having one handle in front. Hydraulic rowing piston machines provide you with a more challenging upper arm workout, because the pistons can accommodate each arm separately during workout sessions.
Air Resistant Rowing Machines- Provide Intense Exercise Sessions
Air resistance is the most common type of rowing machines. It is a new concept to new and inexperienced user, due to the tension level, which adjusts automatically with the user's pace. Air rowing machines come with fan blades, which allows for a smooth rowing sensation.
Magnetic Rowing Machines- Make Little Noise, and Puts up a Powerful Resistance
The magnetic rowing machines are quite popular. These are the same types of models gyms use. These machines operate through a braking system, which delivers automatic and manual resistance, depending on the chosen model. The magnetic rowing machines are durable, sturdy, long lasting and practically maintenance free. Similar to air rowers these machines are smooth, and easy to glide.
Water Resistant Rowing Machines- Provide the Truest Form of Water Rowing
Experts agree: water resistant rowing machines are the best and most efficient rowers on the market. The blades provide a realistic sensation of outdoor rowing, because the blades have been suspended underwater in an actual tank. Water resistant rowing machines are extremely quiet. The only sound you will hear are the gentle sounds of splashing water, as you pull on the handle. However, water resistant rowing machines are more costly, because they are designed to last for years, and they need minimal care.
Get a budget:
Cost should never be the sole motivating factor, when choosing a great rowing machine. Although, some rowing machines are pricier than others, that do not mean they are better, and just because some are cheaper than others, do not make them any less powerful. Consider the extra features the machine includes, such as the monitoring system. You want a rowing machine that calculates how many calories you have burned, how many strokes per minute you perform, and how fast your heart is beating. Once you find a machine with these features, you are good to go.
Resistance:
Resistance levels helps to tighten and tone your muscles. Choose a rowing machine that will challenge you, and force you to work out your entire body. There are several types of rowing machines to choose from, but you need to decide which one will work best for your needs. Be sure to watch a demo, or try it out before buying it, and taking it home.
Size:
The length and width of the right rowing machine should always be in consideration. Although, you might have enough room for a small machine, getting one too small might have some limitations. Smaller machines are less powerful, although they might be compact, and cost- effective. Measure the space where the rowing machine will be, and purchase a machine, that will fit in the space comfortably. The smallest machine weighs up to 35 pounds, and the largest machine weighs over 100 pounds. Although, a machine is small, it can still provide the workout you need.
Foldable or not
You might consider a folding rowing machine specialy if you have a limited space. A folding rower is a smart choice when you want to save space while a non-folding rower can bring you more stability during exercices.
We rarely find folding rowing machines above $1000.
Rower Machine Benefits:
Determine what type of benefits; you are hoping to gain from a rowing machine. Do you need to work on your upper or lower body, or do you a full body workout? If you do, you can get the same rowing experience as though, you were rowing in a canoe. A rower is a good work out equipment for home. Here are at least five great reasons, why you need to invest in a rowing machine:
Stress Reduction
Working out at home is preferably more favorable than working out in the gym. Rowing while relaxing in front of the television, can actually relieve stress. The Mayo Clinic reports that physical activity makes the brain feel good, and actually provide some pleasurable stimulation to the neurological center. In fact, rowing can release the endorphins in the body, and help rid the body of depression.
Muscle Toning
Rowing requires the use of nearly every large muscle in the body. Rowing puts very little pressure on the joints, but it does provide quite a workout for the lower parts of the body, like the buttocks, legs, and hips. Rowing also works to strengthen and tone the upper body muscles. Since rowing machines are adjustable, you can adjust the resistance on the machine to provide you with a strong, unprecedented challenge.
 Cardio Vascular Health
For a stronger, healthier heart, keep on rowing. Rowing increases the function of the heart, and releases carbohydrates to provide the necessary energy your body needs to stay energized. By keeping the tension levels down, you can maintain a higher speed level, with little resistance, thus, creating an aerobic effect. Aerobic exercise increases the functionality of the circulatory system, including the lung.
Weight Loss
Lose weight easily and quickly with rapid rowing action. Rowing just 30 minutes per day can help you burn 377 calories. Excellent component in a weight loss program. However, you need to be consistent in your rowing.