Elliptical Machines are commonly used for multiple exercises while staying in the same place. Here are 5 Elliptical Machines reviews for 5 best Elliptical.
Elliptical Machines Reviews
Elliptical Machines Comparison

RATED
Best
Cheap Elliptical Machine
Best
Compact Elliptical
Best
Elliptical for the money
Best
Elliptical under 1000
Best
Home Elliptical
NAME
Exerpeutic 1000Xl Heavy Duty Magnetic
Schwinn A40
Schwinn 430
Best Fitness E1 by Body Solid
Sole Fitness E95
Photo
Estimated Price
$
$$
$$$
$$$$
$$$$$
Heart Rate Monitor
Yes
Yes
Yes
Yes
Yes
Magnetic resistance levels
8
8
20
17
20
Programs
No
7
22
12
10
Incline
No
No
10 degree manual ramp range with 6 positions
No
Button adjustable from 0 to 30 degrees
Flywheel weight
n/a Dual action Flywheel
n/a weighted perimeter flywheel
n/a perimeter weighted flywheel
n/a
34 Pounds
Max User Weight
300 Lbs
275 Lbs
300 Lbs
275 Lbs
400 Lbs
Warranty
manufacture defects for five years, Parts for 90 days
two-year warranty on the frame, a six-month warranty on electrical parts, and a 30-day warranty on wear parts
Frame: 10 years
Mechanical: 2 years
Electrical: 1 year
Labor: 90 days
Frame--15 years, motor--10 years, electronics and parts--2 years, wear parts--6 months, labor--1 year
lifetime on frame; five years on electronics and parts; and two years on labor
User Rating
3.7/5
3.8/5
4.0/5
4.4/5
4.2/5
What is the best Elliptical Machine?
After 16 hours of research, reading elliptical machines reviews, elliptical users and bloggers to help us find the best elliptical, we were able to make the top 5 elliptical machines.

Top 5 Best Elliptical Machines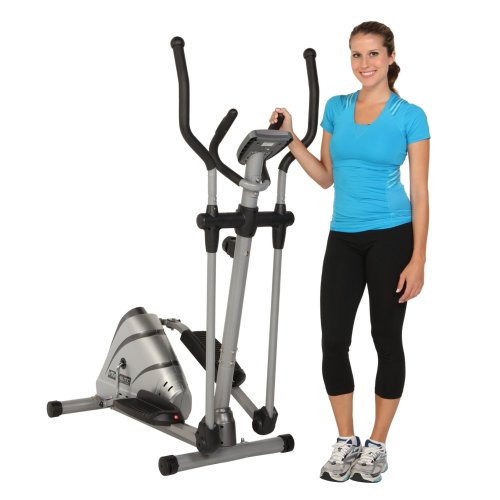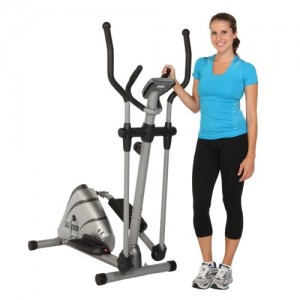 The best Cheap Elliptical Machine for beginners with low budget. The Exerpeutic
1000Xl Heavy Duty Magnetic Ellipticals with Pulse was rated number one Cheap
fitness equipment you can find online. It is the best budget elliptical as well.

---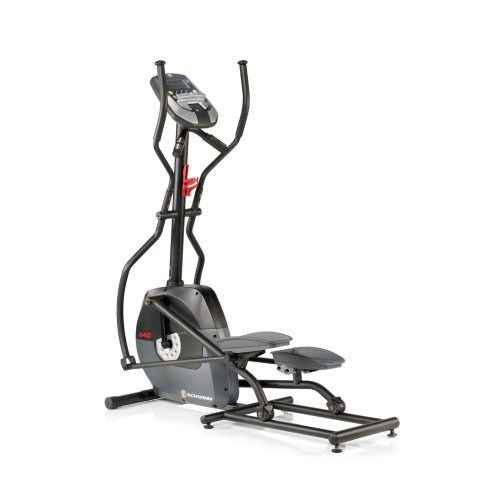 This is one of the best Compact Elliptical machine you can find for an interesting
price. The LCD console is more sophisticated and cheap ellipticals and comes with 7
workout programs. It is very compact machine (Important for small spaces).

---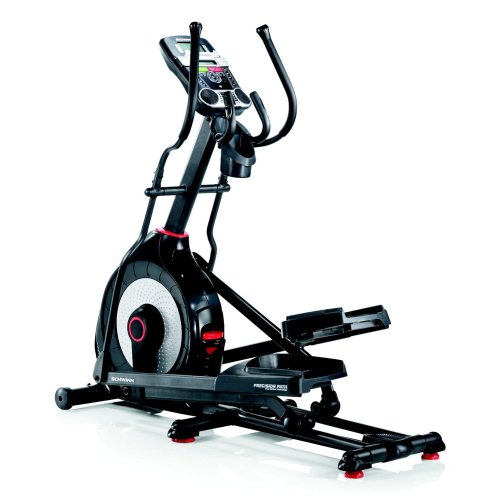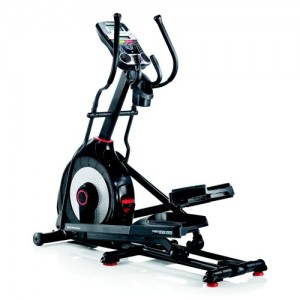 Though you could spend a lot more on a elliptical machine with more
luxurious features, we think this Elliptical meets all the features you need.

---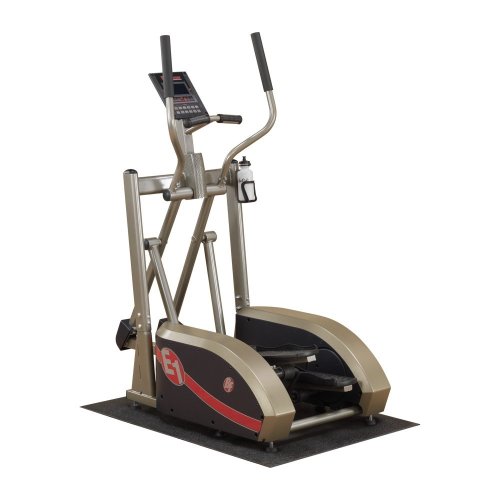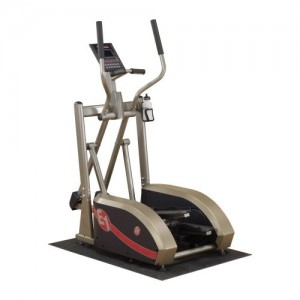 The E1 Elliptical Trainer by Body Solid was voted the Best Elliptical under $1000.
It is easy to assemble, very compact and easy to transport. The close pedal
spacing eliminates hip fatigue which is very convenient.

---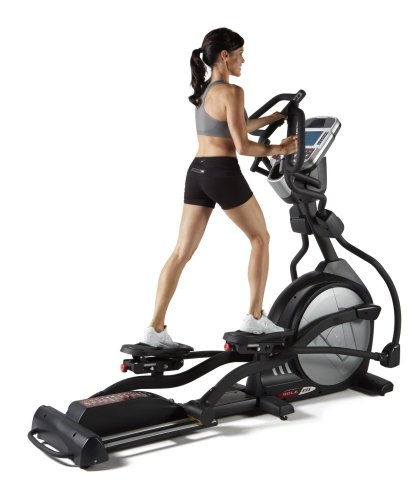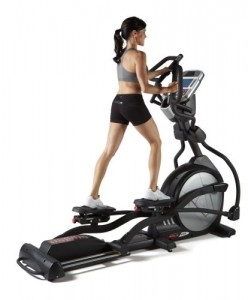 The Best Home Elliptical this year is the Sole Fitness E95. It was chosen among many other
Ellipticals for the electronic incline up to 30 degres, its fluid natural motion with the pedals
articulating to fit the way you walk and for full body workout programs. Buying the Sole E95 is
a smart choice and you won't be disappointed for many years.

How to Choose an Elliptical Machine
The elliptical trainer is the best- selling machines on the market. Millions of people are trading in their exercise bike, for an elliptical. The elliptical machine combines the best of several exercises in one. This machine offers the best workout, by initiating stair climbing, running, and cross- country skiing. The fact that it offers a cross- country training session makes it the ideal choice for athletes, and physical fitness groups. The elliptical is perfect for individual, home use, and for personal training.
When it comes to a healthy heart, the elliptical is the machine to buy. It was not until 1995, that the elliptical would take its place as being the best exercise machine for cardiovascular. When shopping for the right elliptical there are some factors to consider. The right machine will have all the basic tools and accessories in the right place. The newest and latest models offer modern high- tech features, which include easy to use guides, instructions, and owners' manuals.
Before choosing an elliptical, make a checklist of personal and investment goals. Weigh all options, and consider the pros and cons of choosing a particular elliptical machine. Take this checklist along on the shopping venture and refer back to it, when making a final selection.
 Consider Your Workout Goals
Think about what you are trying to accomplish, before you begin your research. Why choose an elliptical. After researching other bikes, it might be easier to focus on a machine that offers all the features you are looking for, for a price you can afford. For example, if your goal is to run 2 miles per day, and tone your abs, and lower body, you need a machine with electronic features and adjustable accessories. You want a machine that will allow you to move freely, without enforcing limitations.
Consider your budget
How much for a good elliptical machine? Between $200 and $3000. You can find the right elliptical machine in this range. Do not go over your budget because you might have to consider buying extra accesories such as an equipment mat for example. The most popular websites often go on sale, just compare the price on a good website.
Even if you have to spend a few extra dollars, to get the best elliptical machine, it will pay off in,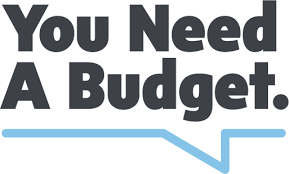 Less doctor visits- Create a daily routine that target the heart
Weight control- Fight diabetes, obesity, high blood pressure, cholesterol
Gym payments- Workout at home is a lot cheaper than working out at the gym
Read the Elliptical machines reviews to see if a machine is worth the price.
Conduct an Online Research First
Search the internet for the equipment you want. Every type of machine you want is already on someone else's website. Stores keep a growing inventory of all the products they sell. Chances are you can find the elliptical you want from several manufacturers, however, the biggest differences are the quality of the product, and the price you are willing to pay. If you can get the same product, you want from an online vendor for a cheaper price, go for it, but make sure it comes with a warranty.
Test the Machine
No one takes a machine home without putting it through a personal test. Some stores have display models on the floor for customer's convenience. The display model allows customers to test drive a particular model before taking it home. Do not be shy, look at everything. Check out the belts (if any), the fan, the side steps, the arm handles, the electronic features, the framework, and the ease of use.
Take the testing even further, and look for these special features:
These features allow you to keep track of the most important aspects of your health. A LED display will allow you to view how many calories you are burning, how many steps you taking, and how fast your heart is beating. These features will motivate and challenge you to reach your level of perfection.
Noise is always an unwelcome factor. Most elliptical machines make very little noise, and the ones that do make minimal sounds. Listen for the fan or motor of an elliptical machine, before making a purchase. Be sure that the noise level is one you can live with. A well designed elliptical should run smoothly and quietly at any level.
Adjustable Resistance Levels
A good unit will offer you a wide range of resistance, which are easily adjustable electronically (sometimes manualy). Look for an elliptical that offers interval- training changes, that you can initiate and change at will. Levels should be adjustable from low to high, and in between.
This is an important feature for an elliptical to have. This feature is what makes the elliptical a true cross- training machine.
This one feature can help you focus on strengthening and toning your upper and lower body. You can lessen or tighten your workout session, and help reduce boredom. Being able to adjust your level of exercise puts you in control of your daily routine. You can train your body to withstand tension at different levels. Cheap machines rarely come with adjustable incline option.
Some Elliptical machines are difficult to use, and the instructions are hard to understand. You want an elliptical that simulates running and walking, the minute your feet hit the platform. You want a machine that provides a smooth, quiet workout, without any interruptions. The pattern of an elliptical is forward and backward.
Natural Movement
Being able to move freely and naturally is the best part of exercising. You do not want a machine that restricts your movement. You should not feel any undue stress on your buttocks or knees, while you are using your elliptical. You should be able to exercise comfortable, preferably in a neutral position, which does not require the use of a handrail, and without bending over.
Warranty Information
Check the product warranty. Most manufacturers' offer lifetime warranty on one or more parts of a product, and limited warranty on other parts. Check to see if an extended warranty is available; if so, make the purchase. It is easier, and wiser to pay a few extra dollars for an extensive warranty, and get the extra coverage.
Product Quality inspection
Inspect the machine's artisanship. Is the framework made of durable material? What is the weight capacity of this machine? Are the parts easy to find, or can I order them from the manufacturer?
Summary
No product is perfect, and there are many elliptical machines to choose from. Be sure to choose a machine that provides the type of workout you want, at the price you can afford. Be sure to check out the quality and warranty of the product you want, before making the purchase.
Elliptical Machines Fitness Results
Good cardio with less stress
Works the upper and lower body at the same time (full-body workout)
Interval programs boost metabolism and burn more calories, the intensity can be increased with incline/decline and resistance levels
Safe option for elderly people and obese