Hi, i am Ronan and i quit Clickfunnels for Systeme.io.
And i tell you why…
Want to grow your audience, sell affiliate offers and sell your own products?
Here you have an alternative to consider.
Systeme.io is a all-in-one marketing tool created by the well known french entrepreneur Aurélien Amacker that makes it possible to create squeeze pages, captures emails, send emails, create sales funnels and webinars, collect payments, have membership areas, run your own affiliate program and much more!
All in one! And probably more complete and up to four times cheaper than your current tool! And with a 2-tier affiliate program that rocks!  (40% + 5% commissions. More info here.)
One Question
Do you want to try systeme io before buying? Try the 14 day free trial! No credit card needed! (i wish i could do the same with other tools …)
Cheap means bad quality, right?
Many people tend to believe a high end price means high quality tool and cheap price means low quality.
THIS IS TOTALY WRONG AND LET ME EXPLAIN WHY
Creating a tool can be expensive but the maintenance is low price for 10 customers, 1000 customers or even 10000 customers. The platform just needs more space for datas and data is cheap nowadays. What matters most is how much income a tool can generate each month for the platform to pay decent wages to its team of webdeveloper and support team. Many tools out there are out of price! Their owners are just too greedy and they show off their Ferrari while you sweat trying to break even financialy. They literaly cut down your benefits. Instead, a plateform such as Systeme.io took the decision to go cheaper in order to reach more people.
I know a guy that still pays $297 per month at Clickfunnels (he has made 2 millions selling digital products). He is considering migrating to Systeme.io because he constently report bugs and nothing seems to get fixed the way he needs it. The support at Systeme.io usualy answer emails in 2 hours and doesn't leave its customers unstatisfied
Nowadays people know the price of everything and the value of nothing.
Oscar Wilde
Well let's dig a little bit more and find out what you get for the price.
First of all, the tool came out first in France in april 2018. It took 2 years for Aurélien to find the right team to develop it.
Over 1000 french marketers have chosen Systeme.io to start their business or switched from Clickfunnels in less than 5 months. This is a pretty amazing start and the sign of a new wave in digital marketing.
Why 1000+ marketers choose Systeme io as an alternative to Clickfunnels?
Wether you sell digital products or services on internet, this tool will save you great time and energy to focus on your business.
Systeme.io is a marketing tool to consider before choosing any other tool such as clickfunnels, wolfeo, leadpages… and you get:
email marketing service to collect emails with built in autoresponder
create sales funnels and stock your digital products, videos, PDF and trainings
collect payments with credit cards, paypal or stripe
automation
Click here to try Systeme.io for free for 14 days !
Because Systeme.io makes all of this possible in one place, you can save space on your wordpress or just make your business from Instagram or YouTube without the need of owning a blog.
Systeme.io makes things simple and cheaper than their competitors. French people have literaly deserted clickfunnels and learnybox (an other popular tool 3 times the price).
So, let's see a bit more that this tool can do in this review.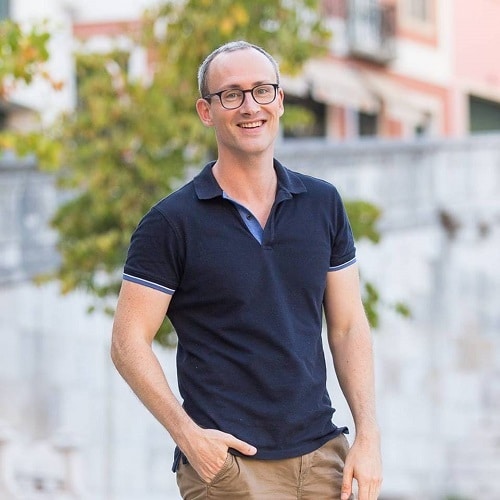 Système.io : Best budget All-in-one marketing tool?
Aurélien Amacker is a six figures internet marketer and Systeme.io is not a hazard.
He used to manage his contacts with CRM Ontraport but faced many issues with the tool for many months. He noticed:
Bugs were still not fixed even after many months
the tool was not compatible with Stripe
and above all, the price was 300$/month
After 1 year trying to figure out how to get the best of the tool, he finaly gave up and decided to hire developers to create a tool that would meet his expectations.
Because Aurélien has tens of thousands of followers, he was able to get a lot of feedback and ideas from real marketers that use email marketing services and sales funnels everyday.
After 2 years of testing and development, Systeme io was finaly available to the public in french language.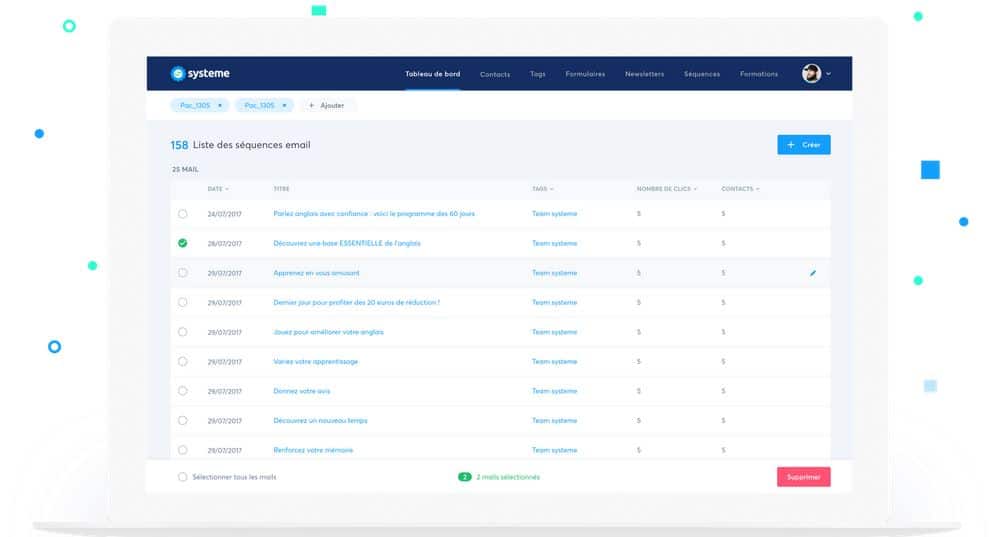 Is blogging still worth it?
Aurélien started on internet with a blog.
At that time in 2010, it was what marketers were being taught, to build your blog.
Nowadays, a blog is not anymore the only way to go, specialy for those who are not techy and want to have their business on other media platforms such as YouTube.
Systeme.io is a great alternative for beginners because it makes it easy to create sales pages, send emails and receive payments. It is still updating and new functions and templates are added every months with no extra costs. This is the french marketing. There are no hidden costs and no extra fees.
French marketers enjoy this budget tool and make it possible to start a business without the fear of investing hundreads of dollars before making a dime.
3 pricing plans
Systeme.io comes with 3 pricing plans:
Starter pack 27$/month
Webinars pack 47$/month
 Enterprise pack 97$/month
I am going to tell you the differences but first let's have a look at something that is very important.
Using Systeme.io everyday
Important point, the owner of the tool uses it himself for his many other businesses and even for promoting the marketing tool Systeme io itself.
It is important to me that he doesn't promote his product with a competitor platform because it would mean he doesn't trust his tool enough to use it.
He even recently decided to migrate his blogs in Systeme io.
After only 5 months, he already generates 40000$/month with Systeme.io and distribute 10000$/month to his affiliates.
Affiliate payments (october 2018)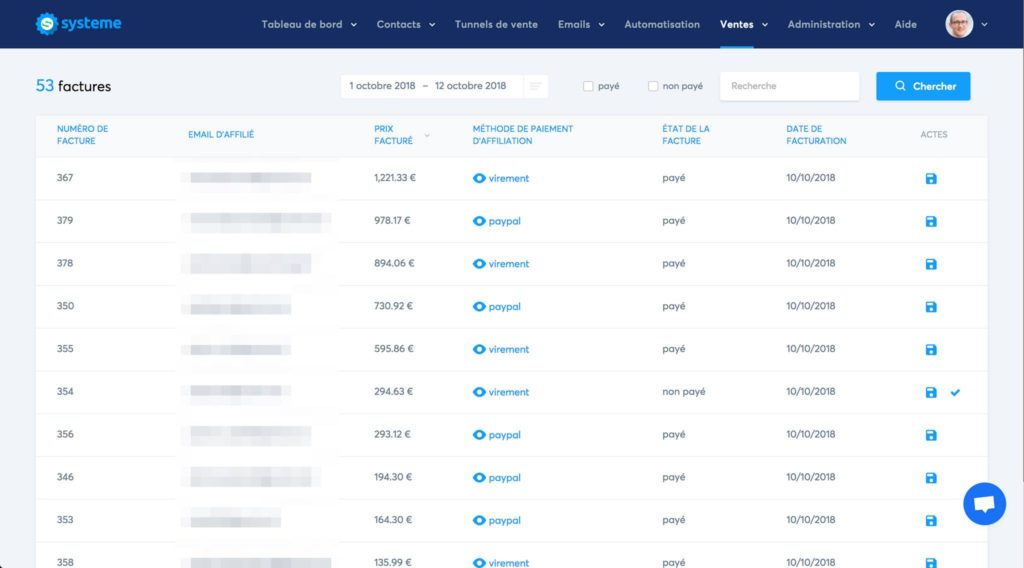 By trying the free 14 days period, you can also become an affiliate and earn 40% commissions by promoting Systeme.io. You can sign up here.
NEW: Systeme.io also comes with a 2-tier affiliate program. Make 40% on your referrals + 5% on the referrals of your affiliates.
In my case, i didn't have any digital products to sell yet. I was just doing affiliate marketing generating trafic from google.
But Aurélien had 2 sites and thousands of contacts on Aweber. He then migrated all of them to Systeme.
The results were beyond expectation.
Choosing to deliver emails with Systeme and no more with Aweber, Aurélien noticed a significant increase in email delivery. The natural consequences were more emails being opened, more trafic to his digital products and more money in the bank account.
Why?
Because Systeme.io uses SendGrid to send emails. SendGrid is one of the best email service provider on the planet.
The delivery rate exceeds most autoresponders such as Aweber, MailChimp, ConvertKit, Getresponse and others.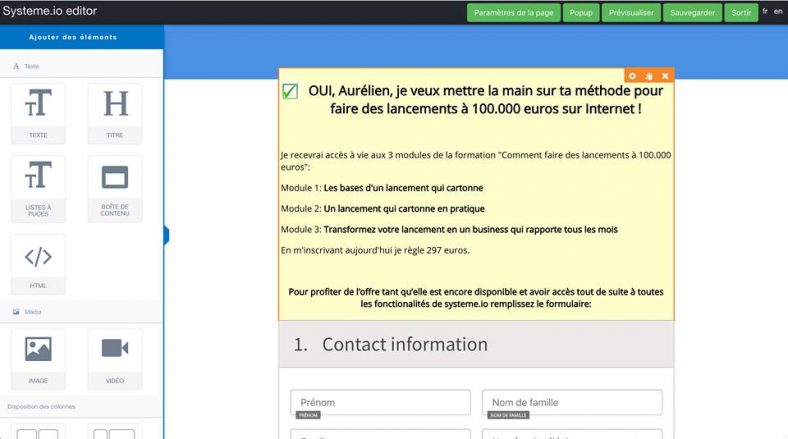 Why use Systeme.io?
Systeme.io is a all-in-one internet marketing tool.
The main purpose is to collect emails, create sales pages, collect payments, create membership areas from one dashboard (you can stock your videos on YouTube, Vimeo or Systeme.io)
No more need to deal with compatibility issues between your autoresponder and funnel platform. Only the big boys in the industry were compatible but they are too pricy for most internet marketers especialy when you start your business and you can't afofrd to spend 297$/month for an autoresponder and clickfunnels.
The tool, after a successfull launch in French, is now available in english language.
The good thing is new founctions are added every month if not every week!
In contrary of many other tools online that sell their services at a high price and without asking for a feedback, Aurélien of Systeme.io is open to any feedback.
You can email his team about what functions you think are necessary. He wants to make the best maketing tool out there. Aurélien is not financialy greedy and his motivation is to first satisfy customers. This is why he choose to sell at an affordable price.
People are already promoting Sam Ovens programs with Systeme.io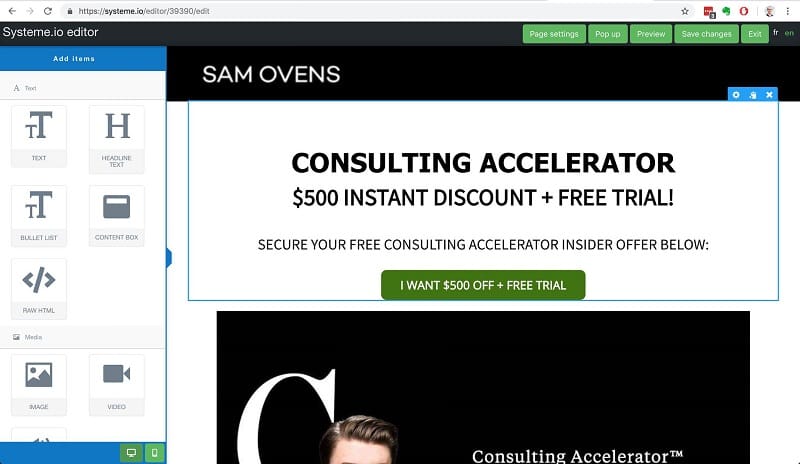 Systeme.io : Built in Autoresponder included
Systeme io includes a complete autoresponder. Thought, if you are used to an autoresponder already, it is different. New contacts don't go into a specific list but receive a tag.
Each contact receive one or several tags. When you send a email, you don't send it to a list but you send it to one or more tags. This way you can optimize and segment contacts.
Example:
You create a capture page on Systeme.io and you embed it on your blog or you put the link on your YouTube description etc. You can auto tag contacts that optin at this specific capture page as a "prospect". You can au tag the contacts that buy your products with "customers"
This way you can select and send a a discount link to your prospects to increase conversions and not let customers know about the discount they missed.
The main advantage is that it is simple to handle and very intuitive. No more hassle trying to sort contacts between lists! You set the rules and the software obeys.
I have used sg-autorepondeur in the past, i can tell you that even after 2 years i was still struggling to segment contacts and change the funnel emails templates. It was almost a nightmare! But i stayed because it was afraid it would be the same if i change autoresponders.
My advise is to choose well before starting.
Create a sales funnel
Look at this video from the founder Aurélien. Nice french accent 🙂

For more videos, see Systeme.io YouTube channel
Système.io pricing
Aurélien Amacker provides cheaper prices than any other marketing tool of the kind. You can look for it online, you won't find any (i jnow i have looked cheaper but haven't found any)
Bye bye Clickfunnels, Leadpages, Aweber and others! I seriously don't understand why no one ever tried to build a all-in-one tool before!
Things are way more simple when your contacts, the captures pages, payments and memberships areas are all in one same place!
Plus you receive only one bill per month…
Pricing plans
There are 3 pricing plans to start your business.
Starter $27 per month
Webinars $47 per month
Enterprise $97 per month
+ cancel anytime
Comparison table
You can try it for free, no credit card needed. This way you can test it by yourself. You can then decide to stop or use it for your business. If you choose to continue, you keep what you already set up.
Aurélien decided to do this because he wished in the past he could try marketing tools before paying for it.
Some tools were very crappy and unfortunately many marketers exagerate the benefits or lie in the presentation videos.
Let's compare the 3 pricing plans:
For $27 a month (Starter), you can start your business with up to 5000 emails, captures pages, unlimited emails sent, unlimited funnels, 3 membership sites, collect payments, run an affiliate program and team support
For $47 a month (Webinars), you have the starter plan functions + up to 10000 emails + up to 5 membership sites + 2 custom domains + 3 automatic webinars
For 97 a month (Enterprise), you have the webinars plan functions + up to 15000 emails + unlimited membership sites + up to 5 custom domains + unlimited automatic webinars + 1 hour coaching
Which plan to choose?
If you are a beginner, just choose the Starter plan, it is enough to start. You can always choose to change plan later if you want to hold webinars or if you need more space or a custom domain.
If you are intermediate and already have a blog and want to connect it to Systeme.io or if you want to hold automatic webinars, then choose the Webinars plan without hesitations.
If you have an advanced business with many contacts, or like to use automatic webinars or don't want to be limited with numbers, choose the enterprise plan. You will also be able to save time and get a personal training and assistance 1 on 1 with a staff member.
Have questions about Systeme.io?
The good of Systeme.io :
The cheapest all-in-one marketing tool of the market ! Nothing compared to Clickfunnels or Learnybox.
Fully french and english dashboard and support team
Easy to use
Free 14 days trials with no credit card needed
Complete (membership area, built in autoresponder, capture pages, sales funnels, upsells, domain integration,etc.)
Modern and simple design with free photos and full templates 100% editable
Funcions such as order bumps, 1-click upsells, automatic webinars, affiliate program, etc.)
Great for webmarketers
Frequent updates (new functions added, bug corrections)
Affordable price
Run an affiliate program for your own products
Generous Systeme.io affiliate program (40% commissions on recurring payments)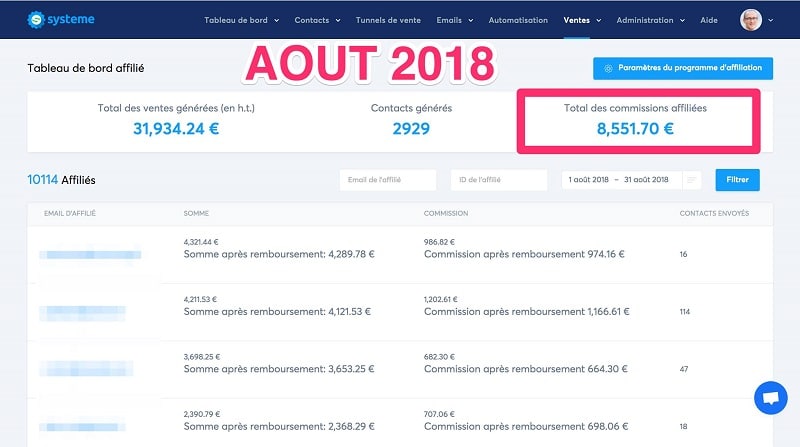 The bad of Systeme.io :
Membership area neglected compared to marketing functions
Few tutorials in english at the moment (still very new to english market), and more tutorials in french
Impossible to know if Affiliate commissions come from new customers or recurring payments
My personal opinion
I personaly choose and recommend the Webinars plan at $47 per month:
Because i already own a blog and i wanted to connect it to Systeme.io (i created a subdomain)
Because i still want trafic to my blog posts
Thought if you are a beginner, the $27 per month is just fine to start with.
The only benefits of the $97 plan to me is the 15000 contacts and the 1 hour coaching. I don't need unlimited funnels and membership areas.
Last updates of Systeme.io:
July 2: 2-tier affiliate program available (make more commissions)
June 5: Fake emails are automaticaly removed (if email provider doesn't exist)
April 24: Double email optin available
April 15: Systeme.io now available in spanish
April 10: More data statistics available (email CTR…)
March 12: New workflow editor
March 6: Add/remove customers tags
Feb 26: Select language
Feb 1: Zapier integration
Jan 26: More webinar functions
Jan 8 (2019): New design editor
December 30: A/B test, create split testing pages
December 17: Add coupon code on sales pages
November 8: Added Payment.net
November 6: Sell physical products
October 24: Custom login page
October 16: Remove/add new Paypal and Stripe accounts
October 10 : Advanced affiliate tracking report
Octobre 9 : Export students connection datas (if you student need their own report)
September 26 : Have your blog domain or custum subdomain connected to Systeme.io
September 6 : Insert timer on sales pages (deadlines, dates, time left or evergreen)
September 1 : Custm domain name to sales funnels
August 28 : Systeme.io now uses Cloudflare CDN for faster TTFB or better security
August 2018 [Mobile friendly] :

Customize pages for mobile and desktops
Frontend pages editor
Show or hide elements on mobile devices.

August 3 : Share full funnels with other marketers (1 click)
July 28 : Create automation rules from within funnels ( each page can have differents rules)
July 24 : Change the order of funnel pages
July 2018 [Main update] : Edit funnels just as Clickfunnels (1 clic funnel template generator)
July 19 : Option to receive real time purchase email notifications
June 26 : Change automated email dates
June 26 : More datas about your contacts (know when and where a contact optined).
June 18 [Main update] : New funnel templates + upsells pages
May 31 : One click bump order on payment pages
May 23 : GDPR compliance
May 23 : Optional exit pop up on pages
May 12 : Mass contact export/change tags/remove tags
April 21 : Customize payment page
April 4 : Sell digital products and run an affiliate program
March 17: Paypal and Stripe integration
In development:
Market place: Promote others marketers offers with affiliate marketing
Shopify intégration
Customize membership login pages
Track member training progress
and more
Conclusion
It is a good idea to try Systeme.io for free for 14 days. This is the best way to find out by yourself if it meets your needs before buying.
On my side, i find it to be a better alternative to Clickfunnels where the affiliate program was just a nightmare to me.
Even if Systeme is not complete yet, it is developing very fast and new functions are added every week. They post the updates on a dedicated facebook group and often run surveys for more functions.
Systeme.io is the must go to me for any onyone who considers selling courses online. It is recommended for non-technical marketers that don't want to spend time figuring things out but instead, want to spend time focusing on making more money.
Consider the affordable price and the all-in-one tool. Just great.
You make your choice. it is now or maybe never.